Seltec TM-16XD Clutch Kits - 12 Volt
Clutch assemblies are listed below by the number of grooves on pulley and hub type. Seltec clutch components such as pulley's, coils, hubs, and installation kits are available separately and can be found by clicking on the following link Seltec TM-16XD clutch components.
Please don't hesitate to contact us by phone toll free at 1-800-726-2310 or email us if you have technical questions or can't find what your looking for.
---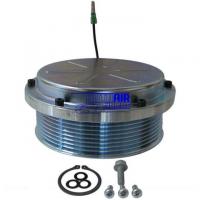 Note: Clutch Fits All TM-13, TM-15, and TM-16 Compressor Models.
123mm ~ 4-13/16" Diameter Pulley
8 Groove Pulley
Three Eye Style Clutch With Dust Cover
Includes Installation Hardware Kit
Free Shipping
1-Year, Unlimited-Mileage Warranty
Read more...
$119.00
List Price: $171.50
You Save: -$52.50