Seltec TM-13HD Clutch Assemblies - 12 Volt
All clutch assemblies are new, include pulley with factory installed bearing, coil, hub, and installation hardware.
Feel free to browse through our product range for the one your looking for. Need help or do you have a question about one of our products? Please call us toll free at 1-800-726-2310 or fill out our parts request form and we'll do our best to assist you.
Clutch assemblies are listed in order by the number of grooves or ribs on pulley, starting with one groove.
---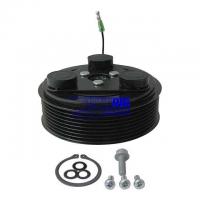 Note: Clutch Fits All TM-08, TM-13, TM-15, and TM-16 Compressor Models.
123mm ~ 4 and 13/16 inches
8 Groove Pulley
Three Eye Style Clutch
Includes Installation Hardware Kit
Free Shipping
1-Year, Unlimited-Mileage Warranty
Read more...
$115.00
List Price: $164.28
You Save: -$49.28